KETOS ALL CARBON EPOXY KITE FOILS AND  BOARDS WITH SICOMIN EPOXY SOLUTIONS
Sicomin has been supplying the marine industry's innovators and pioneers for more than 35 years, manufacturing high-performance epoxy resins, adhesives and coating systems for stronger, lighter and faster marine craft around the world As the  development of Foiling – where a board or boat dlies above the water supported by hydrofoils – continues, Sicomin work alongside some of the sport's most innovative artisans, providing the composite strength within these spectacular flying machines.
Ketos – based in Aix Les Bains near the beautiful Lake Bourget – is the foil brand developed by the team behind 3G Composites, who have been manufacturing advanced composite components for leading sporting brands such as Salomon, Beuchat, Mavic and Sup'Air for more than 30 years. Sicomin has supplied composite materials to 3G since 1990, making them the number one choice when the company started to develop foils for kitesurfing in 2009.
The Ketos range of kitefoil boards and foils is an entirely in-house creation, with conception, design, engineering, prototyping, manufacturing, marketing
repaired. For this reason, Ketos use CNC machined aluminium tooling with press moulding and vacuum infusion processes, producing parts with high dimensional accuracy that require minimal finishing when they are removed from the mould.
Ketos use Sicomin's high-performance DNV-GL approved SR1710 resin for foils with the product's extremely low viscosity and exceptional mechanical properties providing the optimum balance of reliable infusion of carbon unidirectional fabrics and high interlaminar shear strength in the final products. Sicomin's TopClear UV stable coating system provides the final surface finish for the clear carbon Ketos foils, easily filling any surface pinholes with two quick drying coats of material.
Ketos boards feature a full carbon construction, lightweight sandwich core materials and are manufactured using a combination of vacuum infusion and wet lamination with Sicomin's SR1700/1710, Surfclear Evo and GreenPoxy 33 bio-based epoxies.
Sicomin's PB250 foaming epoxy is also used to manufacture lightweight in situ epoxy foam cores and provide high strength bonding between epoxy laminate skins. For structural bonding applications, Ketos uses Sicomin Isobond SR Isobond 7100TH for ultra-high performance bonding with thin adhesive bond lines.
Sustainability also forms a core part of the Ketos mission, with the company selecting and qualifying raw materials based not just on mechanical and
and distribution all managed by the Ketos team. Focused on performance but also on making the sport accessible to new riders, Ketos foil packages can be tailored to match the user's ability and preference for speed, wave or freestyle sailing.
Ketos foil sets are made up of 4 carbon fibre components – the vertical mast separates the board and the fuselage which has different profile front and rear wings attached. A key part of the Ketos concept is that parts should be interchangeable, making it easy for riders to change foils for different conditions, upgrade components as their skill levels increase or replace a damaged part whilst it is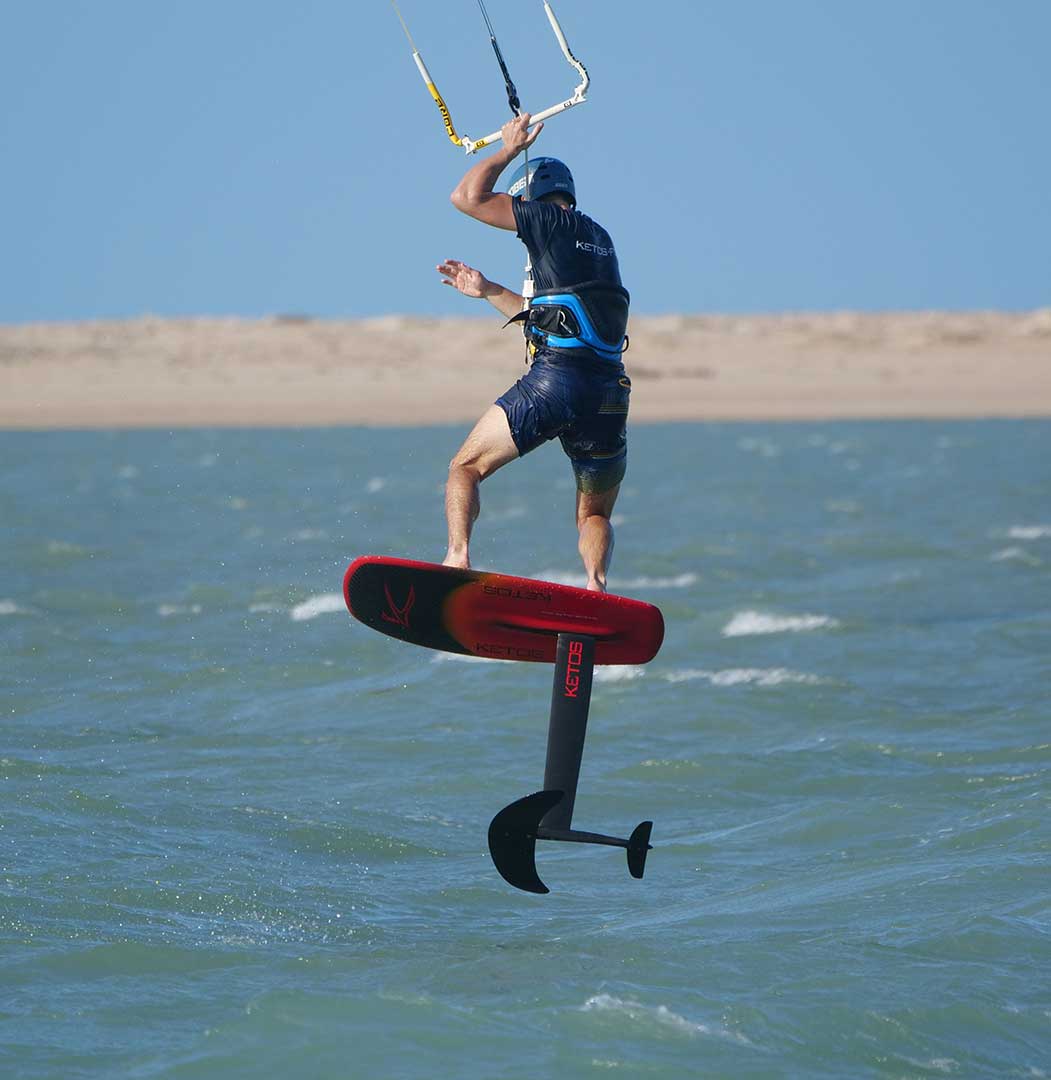 processing performance but also based on their green credentials. Sicomin, manufacturers of the market's largest range of bio-based epoxies, shares the Ketos vision to continuously reduce the impact that composite sporting goods have on the environment, and strong customer demand for Ketos foils and boards has seen Sicomin supply ever increasing material volumes. Fortunately, Sicomin's plant near Marseille can produce all of its bio-based products in industrial volumes, providing more than sufficient capacity as the foiling revolution continues to gather pace.
Whilst Ketos foils and boards exploit the lightweight, high stiffness properties of carbon fibre composites and push the limits of what is possible, the company itself has a strong sense of egalitarianism – with the entire team contributing its success. This shared sense of innovation, cooperation and fairness, is exactly in line with Sicomin's own philosophy, with the two companies working together to keep foiling higher, faster and more sustainably.